Two races into the season, the topic of conversation in Formula 1 remains the new engines.  Considering the reduced noise the turbocharged V6 units make, one could say that the arguments over their merits have become louder than the engines themselves.  However, for all the salvos exchanged between critics and proponents of the new regulations, there is one overriding fact that renders the debate irrelevant: the change was necessary to keep the sport alive.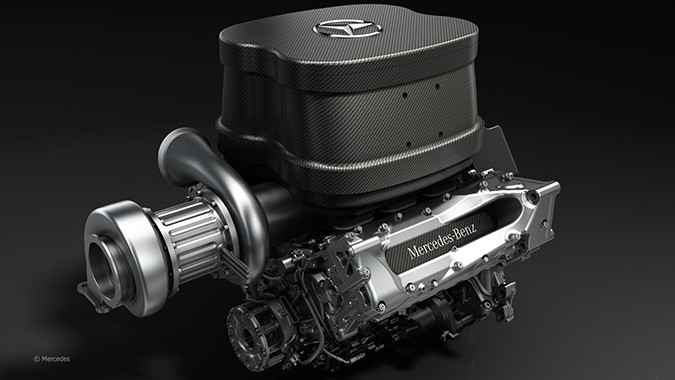 Regardless of how popular a racing series may be, it cannot be expected to thrive without manufacturer support.  You can gather the world's best drivers at the world's best tracks and pack the stands full of fans, but none of it means anything without cars to race.  The days of scrappy teams of enthusiasts building their own racing cars have long since passed.  Whether they support private teams or field their own factory drivers, major automotive companies have become a necessary part of top-level motorsport.  I bring up this obvious point because Formula 1 in its previous form was on the verge of losing this critical element.
Manufacturers will only devote resources to a racing series if they get something out of it.  The free advertising that comes with winning a grand prix is always nice, but the main benefit of racing from a factory perspective is the opportunity to develop and test new technologies.  This is only possible when a racing series is relevant to the kinds of road cars that major companies want to build.  The small-displacement, high-revving, naturally aspirated V8s that F1 used up through 2013 were the exact opposite of relevant.  As a result, Renault was considering pulling out of the sport as an engine manufacturer, leaving only Mercedes and Ferrari to supply power plants.  Since it's unlikely they could have supported the entire grid on their own, F1 would have been left with fewer teams and fewer star drivers.  With dwindling support for the series, we would likely have seen a slow exodus of talent to other disciplines.
By moving to an engine style with greater relevance to road cars, F1 was able to keep its three engine manufacturers, and even attract a fourth.  Honda's planned return to the sport in 2015 is a direct result of the new technology.  The sport's increased relevance allowed Honda to justify the expense of participating.  If the change proves successful, F1 may even be able to win back other companies it lost due to its high cost and past refusal to move forward.  There was a time when Formula 1 was able to be both a drivers' championship and a major force in automotive development, and it can be both again if it makes the effort.
To see what F1 is missing out on, simply look at the entry list from a World Endurance Championship or United SportsCar race.  Between the GT and Prototype classes, these sports attract the support of a wide variety of car companies because of their value as a testing ground.  Even without F1's rabid fanbase, endurance racing is thriving and expanding. A major manufacturer can look at the 24 Hours of Le Mans or 12 Hours of Sebring and see an opportunity to improve its products.  It's why Porsche decided to build a Le Mans prototype instead of a Formula 1 car, and it's why Ferrari is also considering a return to the sport.  As the global economy continues its slump and private teams continue to have trouble finding sponsors, can F1 really afford to ignore the benefits of attracting factory teams?  Of course not, and that's why we have new engines this year.  Perhaps they aren't as loud as they used to be, but neither are the engines in modern IndyCars or Audi endurance racers.  The high-pitched scream of the old V8s was little more than the cries of a sport slowly sliding into irrelevance.  The future doesn't sound the same as the past, and it never will.  Get used to it.
Pit Box One is written by Paul Jensen. You can follow his thoughts on video games and motor racing on 
Twitter
.