There are so many popular weekend hangout spots I simply can't stand. Nightclubs are far too noisy and only have cheap beer at exorbitant prices, sports bars may have a far better beer selection and killer chicken wings to boot, but I simply can't relate to the conversations about the sportsballs being had at the barstools next to me. I thought I would never find a place to appreciate some good liquor in an atmosphere relevant to my interests… until this past weekend.
At the end of an evening of Christmas shopping in South Burlington, Vermont, I stopped by "Tilt," a fairly new bar in the city. But this was no ordinary bar. The menu boards were bordered with drawings of Pac-Man and Centipede sprites. The menu includes specialty drinks like the "Hadouken," and specialty burgers like the "King Hippo." The dark hallway leading to the bathrooms has a black light illuminating fluorescent images on the walls of Guile, Chun-Li, and others from the cast of Street Fighter. And lining almost every wall in the main dining area are classic and modern arcade games and pinball machines, from Asteroids and Pac-Man to The Simpsons and Mortal Kombat II.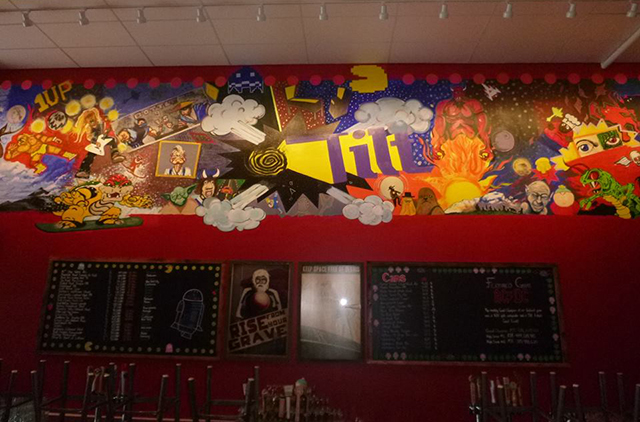 That's right, Tilt is, as it describes itself, a "classic arcade and alehouse." Saturday was my first time visiting such a magical place of beer and video games (that wasn't actually my apartment with a Wii U in the living room and a case of Sam Adams in the fridge). It was easily the best social environment possible for adults who appreciate both good beer and good games.
Bars featuring a plethora of classic arcade games have been a growing trend in the past decade or so. In larger cities across the United States exist "Barcade," currently with three locations in New York, as well as in Jersey City and Philadelphia. On the west coast are places like the far trendier "Insert Coins" in Las Vegas. Overseas is the highly publicized "Mana Bar" chain of video game bars in Australia, famously co-founded by Ben "Yahtzee" Croshaw of Zero Punctuation, among others.
Though not as many Mana Bar locations exist anymore due to a lack of attendance, the Australian gamer bar chain was a first of its kind that clearly set a chain of events in motion in the United States. Bars for video game fans are becoming more common here, and right now they are certainly popular. My visit to Tilt was on a pretty busy Saturday evening, and it's very likely attendance will see a boost as the bar hosts more special events, like video game tournaments.
But what makes this growing trend of arcades and bars colliding so especially incredible is how they create a social atmosphere like no other; an atmosphere created by bar patrons and employees alike, based on a commonly shared passion for games old and new. I shared several great conversations with the bartenders at Tilt while sipping my local Vermont brew, from favorite classic games to discussing more recent gaming phenomenon, like how exciting it is to play Super Smash Bros. for Wii U.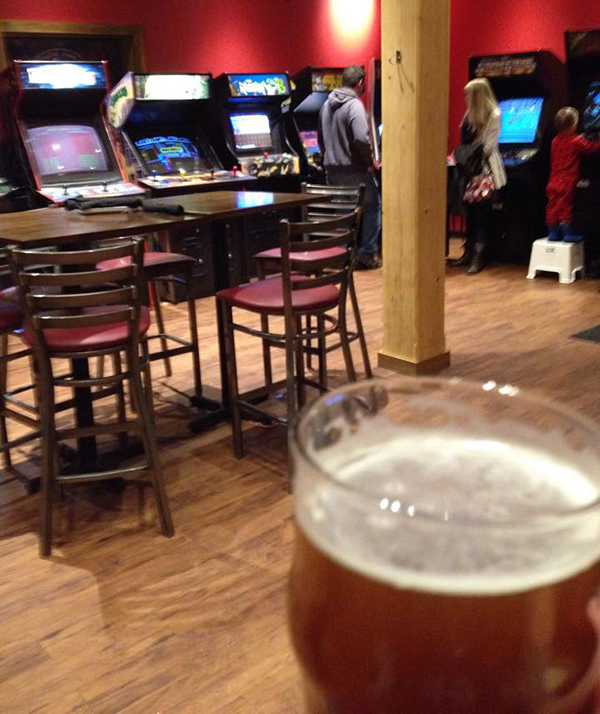 For far too long now, there has been a negative stigma attached to video games and the culture surrounding them. There is an idea from outside onlookers that gaming is an antisocial hobby. But that is not what I witnessed Saturday night in South Burlington. I saw not only older adults sharing drinks and reminiscing about the games they grew up playing, but also young kids with their families enjoying dinner and playing these games together. People were playing together, and having fun together. Everyone may not socially accept gaming just yet, but adding familiar territory to an arcade such as a bar is definitely a step in the right direction toward that goal. I know I've found myself a great place to go and socialize, and through these amazing bars for gamers, I'm sure I'm not the only one who has seen my favorite hobby break into a more social scene.
The Minus World is written by Steven Brasley. You can keep up with his thoughts on gaming via Twitter. Check back every Tuesday for new articles.