Our Editor in Chief attended Anime Boston on March 21st and 22nd, which marked the first time our website has covered an event with official press credentials.  This article is the first part of a narrative piece on his experience at one of the east coast's most prominent anime and manga conventions.
As any convention veteran would expect, the day starts with an interminable series of lines.  I arrive at the Sheraton Hotel half an hour before the con begins and get in the line for people who registered ahead of time.  A few minutes after 8, our line begins to move through the hotel, forming a new line to pick up our passes.  I soon have my shiny new press pass dangling around my neck, and march triumphantly out into the hallway.  My last name may be misspelled on the pass, but I'm ready for action.
And by action, I mean another line.  Most of Anime Boston takes place in the Hynes Convention Center, adjacent to the Sheraton.  In order to get into Hynes, we all have to go through a bag check, which means more waiting.  A wave of commotion rushes down from the front of the line, and we're finally moving at around 9.  A cursory check of my near-empty backpack gets me through, and things are officially under way.  The orderly procession eliminates the mad stampede that we've seen in every anime comedy, but there's an undeniable (if sleepy) buzz amongst the early birds as we wander around, getting our bearings in the three-floor convention center.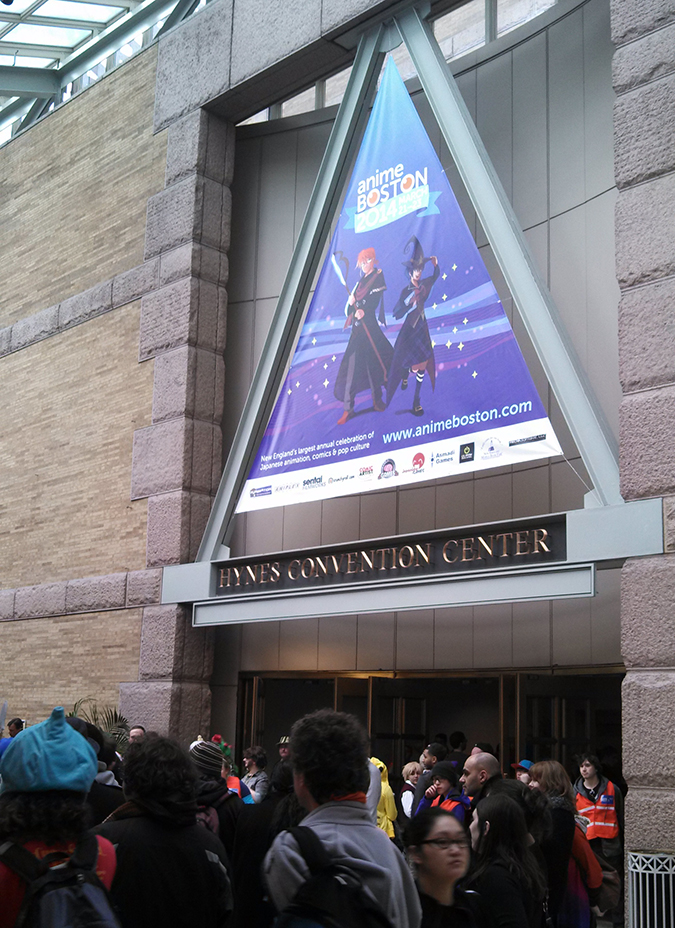 The indoor entrance to Hynes, complete with swarms of people waiting to get through the bag check.
The panels don't start in earnest until 10, so I duck into a screening room to get off my feet for a while.  As the first episode of School Rumble plays in front of me, I go over my battle plans.  Outside, the halls are quickly filling with the sights and sounds of countless cosplayers.  My resolve bolstered by a healthy dose of romantic comedy, I head out to take on my first time covering an event of this scale.
After a lengthy but interesting panel on anime soundtracks, I hit the dealer floor and artists' alley.  It's a sensory overload on all fronts.  Legions of fans shuffle from booth to booth, admiring the huge selection of books, Blu-ray collections, posters, figures, games, shirts, pillows, pins, and cosplay gear.  Traffic jams break out constantly as people in particularly impressive costumes are flagged down by would-be photographers.  After several near-collisions, I decide to let the dealer floor clear out a bit and break for lunch.  The nearby food court makes a college campus dining hall seem quiet and roomy, so I wander around for half an hour before finding refuge in a relatively peaceful California Pizza Kitchen.
With my face stuffed full of pizza, I'm ready to line up for my first event: Funimation's 20th anniversary panel.  Once the remnants of a Sailor Moon panel clear out, we filter in to a J-pop soundtrack.  The front rows fill up quickly, and everyone seems keyed up for the first industry panel of the weekend.  There's a steady buzz of chatter as people exchange Pokémon tips and argue about Madoka Magica characters.  The excitement peaks as Funimation's Justin Rojas and Adam Sheehan make their way onto the stage and get the panel started.  We get to see the company's new logo animation (my first convention premiere!) as our hosts prepare to take us "down the memory lane of Funimation."
Fans head up to the stage after the panel to get a look at some vintage Funimation merchandise.
The panel begins with the company's origins and the all-important acquisition of Dragon Ball Z.  Rojas and Sheehan refer to Funimation as "The house that Goku built," and they're obviously not just joking.  As the company's first big license, DBZ played a big role in Funimation's growth over the past two decades.  We get a look at old VHS cases, vintage trailers and promos, and a retrospective video taking a look at what the franchise meant to the company.  From there, the panel moves on to other major acquisitions (Fruits Basket, Fullmetal Alchemist, and so on) and landmark events (first convention appearance, first co-production).  The crowd cheers at the nostalgic mentions of favorite shows, and we ooh and ahh over fan campaigns like the Hetalia art cards.  After things wrap up with the acquisition of Attack on Titan and the simultaneous dub of Space Dandy, we get some creative promotional cards for Psycho-Pass.  The panel as a whole is a supremely enjoyable piece of nostalgia, not to mention a fascinating look at how a tiny company grew to be one of the leading names in the US anime industry.  What's especially nice is seeing the obvious enthusiasm of the Funimation staff for the shows they release, along with their appreciation for their passionate fanbase.
Promo cards for Psycho-Pass, shaped like the Dominator handgun from the show. Shiny.
A few minutes later, I'm back in the same room, a few rows further forward, waiting for the second Funimation panel of the day.  This time the topic is their online presence, both through social media and their own website.  The big takeaway this time is how hard the company's pushing to make their site into a sort of "one stop shop," be it for news, forums, streaming content, or their company store.  It'll be interesting to see if they can successfully carve out significant sales numbers from established anime retail sites.
I end the day with a trip back to the dealer floor and artists' alley, which has calmed down a bit since the opening rush.  Of course, "calm" is a relative term when you surround countless anime fans with an unlimited supply of things to buy.  I pick up a Survey Corps pin and stick it on my jacket, my decision-making clearly influenced by the legion of Attack on Titan cosplayers present at the convention.  Over at the artists' alley, I pick up an impressive piece of Fate/Stay fan art, and engage in a geek-out over the various iterations of Saber with the artist.  After realizing that I'll be paying $40 a day for parking, I resolve to buy more stuff tomorrow.
As I shamble exhaustedly back to my car, I reflect back on my first day at Anime Boston.  Over the course of 11 hours, I've gone from being a bit overwhelmed and incredibly sleepy to being fully engaged in the controlled chaos of the convention experience.  I know full well just how exhausted and broke I'll be by the end of the day on Saturday, but I can't help being excited for the process of depleting all that energy and money.
Read the rest of our coverage in Part 2.
Kawaii Overthink is written by Paul Jensen. You can follow his ramblings about anime on 
Twitter
.