It's funny how things work out sometimes. I wavered back and forth for months over whether or not to buy the collector's edition of Love, Chunibyo & Other Delusions but couldn't quite sell myself on paying that much for a 13-episode series. After a few weeks of writing for Anime News Network's Shelf Life column, take a wild guess as to what made its way into my review schedule. For lack of anything else to write about this week, here's a look at what's inside the big shiny box.
The box itself is enormous, almost obnoxiously so. It's a sturdy, shining behemoth that screams, "Bow down before the fruits of my disposable income, peons!" For reference, it's big enough to hold six standard DVD cases. Each box is individually numbered for added nerd cred (my review copy is number 0888).
Inside, you get the first season of the show on Blu-ray and DVD. Each format gets its own transparent DVD case with a reversible cover insert. The Blu-ray version spans two discs, while the DVD needs three. Along with the original twelve episodes, both formats also include a half-hour OVA and a collection of comedy shorts. If you like clean opening sequences and Japanese trailers, those are included as well.
The big box also includes an English dub, which wasn't offered with the original DVD release. It's a good dub all around, which makes it easier to recommend the show to new fans and the subtitle-averse. It's unfortunate that the dub's currently limited to the collector's edition, and it'd be nice to see a cheaper version made available eventually. Having watched the show both dubbed and subbed, I honestly think I like the dub better than the original Japanese audio. I know, I know, burn the heretic and whatnot.
Apart from the show itself, you also get a 150-something-page booklet and a big box of merch. For bonus points, the swag container itself is printed with character art and logos on all sides. The book is the star of the set for me. For a kickoff, it's in hardcover format and is printed in full color. You get character designs, production sketches, staff interviews, episode notes, and so on. If you enjoy geeking out over the pre-production process, it's a delight to read through and goes a long way toward justifying the cost of the set.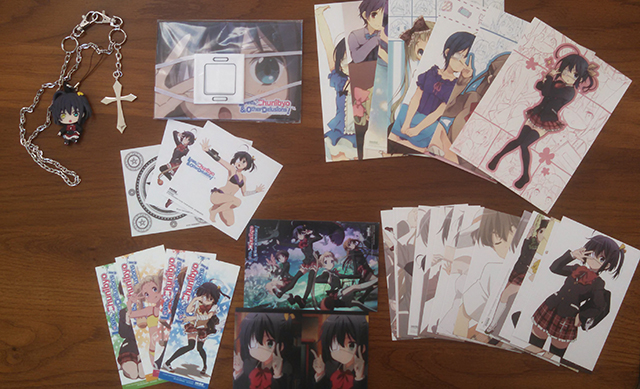 The contents of the extras box are pretty standard collector's edition fare. You've got 7 art cards, 14 postcards (which I assume will never actually be mailed by anyone), a holographic card, and one of those lenticular cards that's several pictures in one. On top of that are stickers, bookmarks, a Rikka keychain, a wallet chain modeled on Rikka's cross, and a honest-to-goodness eyepatch (for novelty purposes only, not a medical device, etc.). I assume someone at Sentai must've spent at least a month yelling, "More! Find me more stuff to put in this box! What part of 'MORE' don't you understand, damn it?" That individual clearly got his or her way.
With a list price of $130 and pre-order prices closer to $80, the Chuni-box makes a pretty solid case for itself. If I'd pre-ordered it sight unseen, I'd be pretty happy with what I ended up getting. In a market that's seeing more and more premium releases, Sentai Filmworks has put in a strong effort with this one. If they do more editions like this in the future, the Chuni-box makes a good template to follow.
This Week in Anime is hastily cobbled together by Paul Jensen. You can follow his ramblings about anime and manga on Twitter. Check back every Monday for new articles.