The end of an anime season is always a strange experience. So often, it ends up being hard to say goodbye to shows that you almost didn't even watch, while early favorites can't be over soon enough. Of course, maybe that's just my natural tendency to love any series that exceeds my expectations. Enough ramblings, though, because it's time for This Week in Anime.
Simulcast of the Week: Sabagebu!
I'm not certain where the "cute girls with guns" anime trend started, though I heap most of the credit/blame on Girls und Panzer. Typically a weird hybrid of the sports and slice of life genres, this kind of show tends to take adorable characters and have them mess around with military-grade firepower, simulated or otherwise. Sabagebu! looks like it's going to do the same… right up until it sucker-punches you in the face and laughs at your injuries.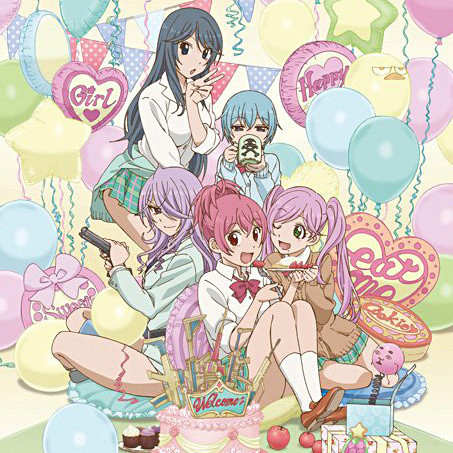 You see, Sabagebu! is really a rapid-fire gag comedy disguised as something far cuter. It unleashes its enormous mean streak and boundless energy in the form of short, seven-ish minute segments, three times per episode. Sometimes it draws humor from its cast of violent, eccentric, gun-toting high school girls. Other times, it offers delightfully twisted parodies of classic action and war films. Its ballistic approach to comedy won't be for everyone, but it's pretty darn hilarious when it hits its mark. Crunchyroll and Sentai Filmworks both have the license in the US, so go watch.
Physical Release of the Week: Attack on Titan Collection 2
I shouldn't even have to write a description for this one. Attack on Titan is easily one of the biggest anime series to hit the US in recent years, and is right up there with Sword Art Online when it comes to having a passionate base of fans. I enjoy Titan's brutal intensity, and generally have too much fun watching it to really care about its flaws. This second box set completes the first season for US buyers, so you'll need it if you want to spread the giant-killing goodness to your friends and family.
In the News: Miku on Letterman
Well, this'll be a thing. Virtual pop idol Hatsune Miku is set to appear on The Late Show with David Letterman on October 8. The appearance is part of the PR buildup for concerts in Los Angeles and New York City later in the month. I'm a little terrified to see how it goes, but probably won't be able to resist watching. That's all the news I feel like looking up for this week, so come on back next time.
This Week in Anime is hastily cobbled together by Paul Jensen. You can follow his ramblings about anime and manga on Twitter. Check back every Monday for new articles.