Before I was a video game fan, I was a theme park junkie: before I picked up my first Game Boy, I begged my parents to take me to Walt Disney World. Today, I am a nerd in two areas: rides and games. And now, I'm seeing those two distinctly different realms of geekdom beginning to converge. Iconic geek culture properties are quickly seeping into theme parks: Universal Studios is selling more tickets than ever thanks to The Wizarding World of Harry Potter, and now at Disneyland you can walk through Iron Man's Hall of Armor in between meet-and-greets with Thor and Captain America. In terms of video games, Disney in particular is incorporating video game technology in their parks now, creating interactive queues with touch screen games as well as physical elements like buttons to push and ropes to pull, making different interactions happen with the environment.
This got me to thinking: theme park companies are embracing electronic media and geek culture properties in more ways every day now, so what would happen if we turned the tables around? What if Nintendo made a theme park, applying the incredible stories of their games to modern-day ride technologies? Could it make a thrilling and immersive experience that is on par with Disneyland or Universal Studios?
As a matter of fact, a theme park based on a Nintendo property already exists in Japan: PokéPark, the Pokémon theme park, and it's… pretty underwhelming to say the least. But it can be used as a "case study," if you will.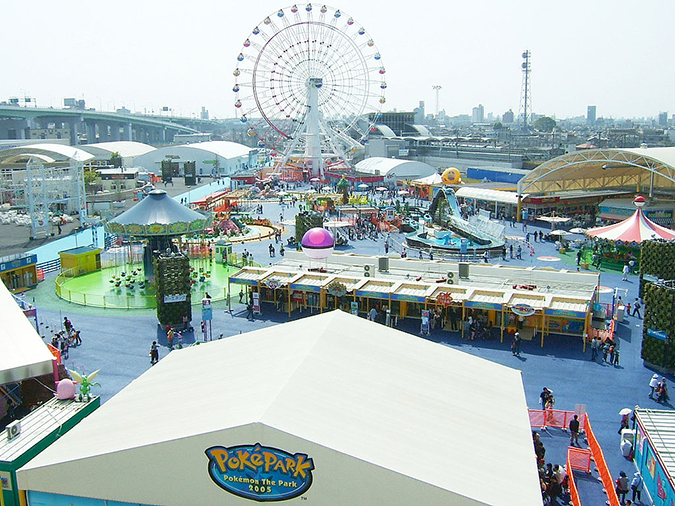 As you can probably already tell just by looking at this picture of PokéPark, the rides look pretty cheap: a tiny little log flume, bumper cars, a Ferris wheel… it isn't so much a theme park as it is the cheapest possible amusement park with Pikachu and the Pokémon logo slapped on some signage. For Nintendo, a company that takes pride in offering high-quality games and hardware, the park has to be embarrassing. Where is the fantastic world you see in the Pokémon games? Why can't I walk into this theme park and experience the thrill of entering your first Pokémon Gym, or get scared by Haunters walking through the Pokémon Tower in Lavender Town? Why can't I soar through the skies on the back of a Charizard, or witness a thrilling stunt show involving a real-life battle between trainers and Team Rocket? Sorry PokéPark, but sitting on the back of an Entei riding an otherwise generic carnival carousel fails to capture my imagination in the same way as the games your rides are (loosely) based on. No wonder why the park was only open for a year.
Here we see the dilemma Nintendo, or any video game company, will have with theme park design. It's one thing to create a fantastic fictional world in the digital space, but how do you translate something like that into the real world, where you're managing a finite amount of space? Clearly PokéPark was far too small for the grand ideas I had in mind for a Pokémon theme park (it was built on the site of an old cargo station). To really build Hyrule Castle, or even a go-kart track that stays true in both look and feel to Mario Kart, would take some serious urban planning which I'm fairly certain Nintendo does not have experience with.
But, perhaps, if Nintendo really got serious about theme park attractions, collaboration with the theme park Goliaths at Disney or Universal could be just what they would need to make an attraction based on Mario or Zelda that is immersive, true to the games, and thrilling. And here's where collaboration could come in handy for both companies: one thing PokéPark did that was actually pretty cool was hold several events where you could receive exclusive Pokémon on your Game Boy Advance. The wireless functionality of the 3DS offers plenty of room to expand on that kind of integration. Imagine a theme park that can interact with your 3DS, where you can physically walk into a battle with a wild Pokémon then catch it in-game, or where the opening of a real-life chest will send you special items in The Legend of Zelda: A Link Between Worlds! Guests would practically welcome long lines for rides if they could pass the time using a 3DS to interact with the park's attractions.
That's no Streetpass, that's a wild Haunter you walked into while riding the Haunted Mansion!
Wow, these ideas practically do write themselves! Let me introduce you two: Disney, this is Nintendo. Nintendo, Disney. Now get on this!
The Minus World is written by Steven Brasley. You can keep up with his thoughts on gaming via Twitter. Check back every Tuesday for new articles.