This past weekend, after being nothing more than a green-colored screen with a logo on it for more than a year, NormalBoots.com returned to the Internet as a full-fledged gaming entertainment site. Normal Boots is once again the official home for several video game personalities, including JonTron, PeanutButterGamer, The Completionist, and Did You Know Gaming, as well as some newcomers such as ProJared and Satchbag.
The return of Normal Boots is quite interesting when you consider the reason why it went offline at the beginning of 2012. In its original run, Normal Boots was conceived as a website where up-and-coming YouTube gaming personalities could collaborate and cross-promote their video content. As videos from content creators like Did You Know Gaming, JonTron, and PeanutButterGamer rose in popularity the site was taken down, as it was believed to be no longer necessary, to paraphrase a statement made by JonTron.
But Jon said Normal Boots has a new purpose in a video posted to his YouTube channel: "We have much more control over our content this way," he said. "YouTube can be a bit restricting and you may have heard about some of the [Content ID] issues that have been going on, so we're [rebooting the site] to circumvent all those problems."
It is great to see so many web content creators working together to still make a living on their independent content. What's more, I can see this trend continuing. Many gaming personalities, not just those on Normal Boots, have clearly expressed concern over YouTube's new ability to flag videos for copyright if they find traces of video game footage in a video regardless of whether or not the video complies with Fair Use. Fan communities are very much aware of this issue too, and I would say most are completely willing to sacrifice the convenience of going from video to video on a single website in order to support their favorite independent gaming shows. The return of Normal Boots is a perfect example; the site re-launched on Sunday to a great amount of fanfare. The new Normal Boots subreddit already has about four thousand subscribers. The fans are quite happy that there once again is another independent gaming entertainment site to explore.
Normal Boots' return is also great for the content creators themselves. Their business model is pretty simple: new videos will be posted to Normal Boots first as exclusive content, which will then be uploaded to the creators' respective YouTube channel within a couple of weeks. I'm no economist but I'm positive that should result in more ad revenue in the long run, from both the website and YouTube. Also, the bottom of the Normal Boots website states that the copyright to the videos belongs to their creators may help avoid any snafus by YouTube's Content ID system.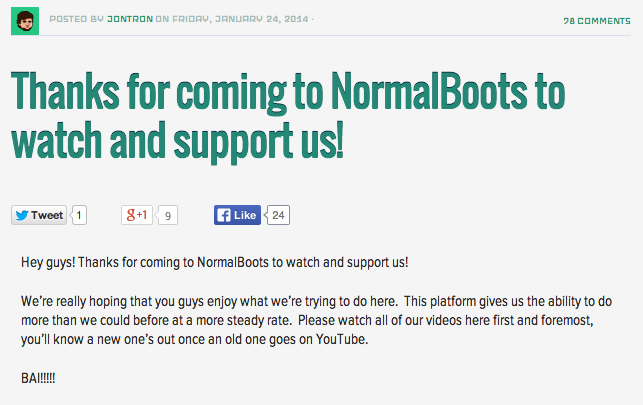 This story isn't beginning, nor has it ended. The folks at Normal Boots are a small handful of content creators that are looking for better options for sharing their content than uploading their videos to YouTube. Independent gaming entertainment sites are on the rise, as content creators can host their own videos and get complete creative freedom without fear of being flagged for copyright. Not to mention it's a lot easier to find specific content on these gaming sites than it is to find videos on a massive video hosting site like YouTube, which today is overly saturated with millions of videos of all genres. Niche content on appropriately themed and marketed independent sites is becoming the norm; expect to see more of this in the future.
The Minus World is written by Steven Brasley. You can keep up with his thoughts on gaming via 
Twitter
.