Hello there, Internet. Welcome to This Week in Anime, a new weekly column that we're starting up here on SharkPuppet.com. Each week, we'll highlight a current series with a mini-review, look at an upcoming physical media release, and recap some of last week's biggest stories from the world of anime and manga. It's everything you need to know, served up fresh and concise with our site's usual helping of insight and bad jokes. Enjoy!
Simulcast of the Week: Free! Eternal Summer
A sports anime series only needs a few things to succeed: a likable group of characters, solid animation quality, and a genuine passion for its subject. As far as that last part goes, most titles in this genre focus their enthusiasm on whatever sport the main characters play, but Free's passions are a bit more divided. Sure, the series captures the adrenaline-pumping rush of competitive swimming, but it's equally focused on the goal of showing off fit, handsome guys in tight swimsuits. One might assume, then, that viewers who don't share that passionate interest need not apply. Thankfully, this isn't the case.
Even if good-looking dudes don't raise your heart rate, the second season of Free! continues its predecessor's tradition of being a riotous amount of fun. The competition sequences are thrilling, the jokes are funny, and the occasional moments of personal drama feel authentic. The animation is generally excellent, and the fluid motion on display in the swimming scenes is as handsome as the members of the Iwatobi swim team. I may not be the target audience, but Free! Eternal Summer has still managed become one of my favorite shows this season. Both Crunchyroll and Funimation are running simulcasts here in the US, so give it a shot on your service of choice.
From the New World (or Shin Sekai Yori if you prefer the Japanese title) originally aired back in 2012, and quickly earned a reputation as good old-fashioned mind frag. Kids with telekinetic powers? Check. Flawed, post-apocalyptic utopia full of sinister secrets? Check. Toss in a creepy, mystical atmosphere and you've got From the New World in a nutshell. If you enjoy creative science fiction that's not afraid to make your head hurt, you can now finally own the whole series on DVD or Blu-ray. The second half comes out this Tuesday, and you can get a copy from RightStuf.com here.
In the News: Old License Rescues and New Kickstarters
Stories from this past weekend's Otakon included some good news for fans of one of the most recognized titles in the world of anime. We've known for a while that Funimation picked up the license for Cowboy Bebop, but no one could say for certain what form the eventual rerelease would take. On Saturday, the company revealed that Bebop will be out this December on Blu-ray and DVD, with both standard and premium editions available. No word yet on what we'll get in the fancy version or how much it'll cost, but at least we've finally got ourselves a timeframe.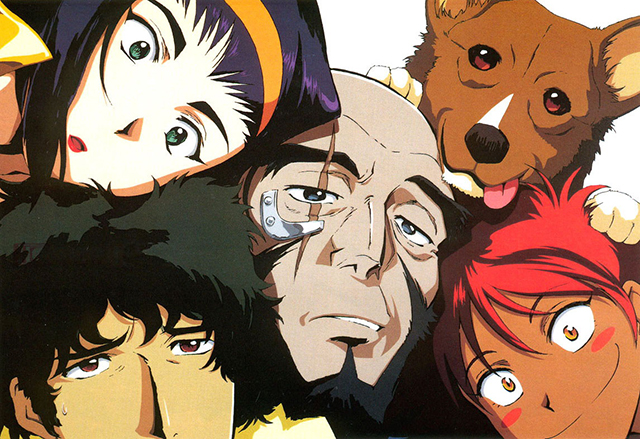 Even without the Cowboy Bebop update, it would've been a good week for iconic franchises. Funimation also announced that it has acquired the licenses for The Melancholy of Haruhi Suzumiya and Lucky Star, both of which had been in limbo after Bandai closed up shop in the US. You want high school kids having crazy adventures while poking fun at otaku culture? You got a whole herd of 'em. Still not enough nostalgia for you? Crunchyroll announced they'll start streaming Cardcaptor Sakura in both Japanese and English this Tuesday. Rerelease ALL the old shows!
On the other end of the old/new spectrum, there's a Kickstarter campaign underway for a sci-fi anime project called Under the Dog. With a production staff that includes several industry veterans, it's got plenty of potential. Will they manage to raise all of $580,000 by the deadline? Only time will tell. Just under four weeks' worth of time, if you want to get technical about it. Go give 'em some money.
That's it for now! Come back next week for another round of information overload.
This Week in Anime is hastily cobbled together by Paul Jensen. You can follow his ramblings about anime and manga on Twitter. Check back every Sunday for new articles.