All I can start this musing off with is: wow. I am still recovering from what was an incredible, epic weekend of video games and gaming culture as far as the eye can see. PAX East 2014 was the largest convention I had ever attended. I felt very overwhelmed at first, but eventually I got my bearings and experienced tons of panels (most of which were epic) and watched and played some great upcoming games, all while acquiring an accumulated hatred of oatmeal (thanks to Cards Against Humanity for randomly distributing their 27 PAX East-exclusive cards in packets of oatmeal, forcing me to open packet after packet to collect them all).
Where to begin?
 To start with, the few games I tried were pretty awesome. The unfortunate thing about going to a convention with 80,000 attendees is there are long lines for just about everything; it makes waiting in line for Space Mountain at Disneyland feel like a cakewalk. As such there were very few games I got to play hands-on, but there were several that I watched gameplay of.
Easily the most accessible games with the shortest wait times were the many on display at the Indie MEGABOOTH. One of the highlights for me, as I expected after seeing it on the MEGABOOTH list, was the arcade-style Victorian-era high society simulator Max Gentlemen, by Organ Trail developers The Men Who Wear Many Hats. A friend and I competed to drink as many pints of beer as possible in the given time limit, sliding our suit and monocle-sporting characters across the bar table at the bottom of the screen. Each pint of beer collected put another hat on our character's head; whoever had the most hats would be deemed the most gentlemanly and thus the winner. Ultimately my friend had a taller stack of hats than I by game's end, because it took me a while to figure out how to properly dodge the many thrown beer glasses flying across the screen, knocking the hats off my head. Either way, Max Gentlemen is a fun little game, especially for anyone who likes facial hair, monocles, top hats and classic arcade gameplay format. After trying it at PAX East, I greatly look forward to its appearance on Steam, iOS and Android.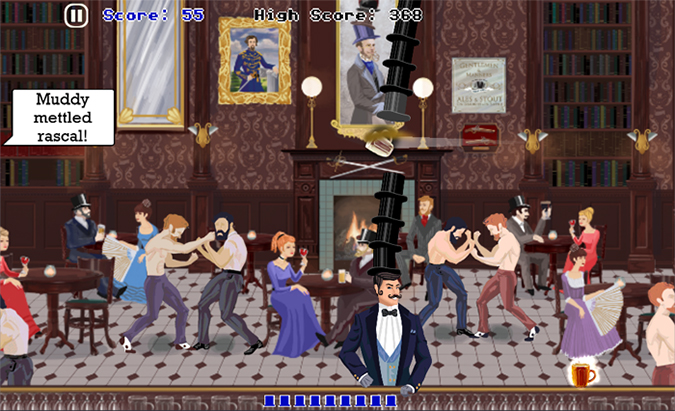 Even some of the games with a much larger presence on the PAX East show floor were fun to watch. Turtle Rock Studios and 2K showed off their upcoming co-op shooter, Evolve, at a massive booth. With the crowds it was practically impossible to take part in a demo (open slots were given to people who signed up via text message, but by the end of Friday the list was way too long to even get a shot at playing), but huge screens gave spectators a look in the action. The game is more or less a refined version of Team Fortress 2's "Vs. Saxton Hale" mod, in which you and a group of friends work together as different character classes to hunt down a massive alien monster. The player controlling the monster has the ability to kill creatures and gain experience points to level up and gain stronger attacks. This game is gorgeous; the level I watched was set in a massive jungle with highly detailed rocks and foliage. The character models, especially the monster, were also sights to see. It is unknown if Evolve will have a large variety of maps or even a story mode; if those are added then the game could be of high enough quality to justify a full $60 price tag. If not, I will likely check it out on Steam when it has a good sale price.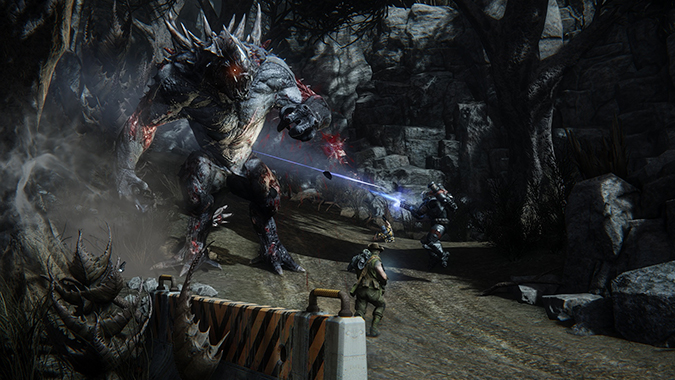 Of the few panels I went to, I enjoyed most of them. By far the most entertaining panel of the weekend was Mega64's panel on Saturday night; as is tradition at their panels, the ten-years-and-counting gaming comedy crew opened with a ridiculous video intro and funny song-and-dance routine. They then showed us a new skit that has yet to be shown to the public (expect it to pop up on their YouTube channel in the coming weeks!). I will not spoil what game Rocco Botte and his pals lampooned, but I will say that the video has some of the funniest public reactions I have ever seen from their skits, and the scenario under which those reactions were received only added to the hilarity. Also, their panel was easily the most efficient with its Q-and-A; the crew almost got through two full aisles of questions before the hour was up. Mega64 has made appearances at both PAX Prime and PAX East for years now, and it shows that they've experienced these conventions enough to know how to handle the many fans that come to see them. Not only was their panel both entertaining and efficient; each day I visited the Mega64 booth the gang was full of energy, excited to interact with all their fans, even going out of their way to pose for pictures and sign autographs when asked. I was a fan of Mega64 since the eighth grade, but after seeing their profound appreciation for fans at PAX East I can respect them on a much deeper level.
The panel for the web series Extra Credits deserves a mention as well. In addition to premiering two new series, one about video game remixers (which premiers today!) and also showing a preview clip of another upcoming show, the Extra Credits team spent a ton of time answering questions from the audience through their typical analytical lens. They answered far fewer questions than Mega64 did (I honestly recall them only getting to two or three questions before the panel ended), but with the amount of intellectualism with which they answered those few questions, the audience didn't seem to mind too much.
I could keep going on about the amazing weekend that was PAX East 2014, but I have already talked for too long. To quickly brush over some other highlights: Anamanaguchi played a spectacular concert on Friday night that re-energized this exhausted, overheated and slightly malnourished cosplayer; the retro arcade room built by the American Classic Arcade Museum was absolutely lovely, and I was happy to see it so well-received by its many visitors. I got way too many Streetpasses but that was a great thing since it allowed me to more thoroughly enjoy one of the 3DS' features that I previously used the least. There were tons of amazing cosplays and I giggled like a little kid whenever I interacted with a cosplayer that remained constantly in character. Overall, this weekend at the Boston Convention and Exposition Center was the greatest display of gaming culture I had ever seen, and is one of the few conventions where I saw gamers come together in a way that fully celebrated that culture.
This is why PAX East is so popular. This is why the three-day badges sold out in less than half an hour last October. This is why I'll be fighting for one of those golden tickets again next year.
The Minus World is written by Steven Brasley. You can keep up with his thoughts on gaming via 
Twitter
. Check back every Tuesday for new articles.