I am a die-hard Disney theme park fan, having visited Walt Disney World in Florida and Disneyland in California countless times with my parents and sister for family vacations.
But this week I did something different. On Sunday I spent a day at Disneyland with Mega64, my favorite video game-themed comedy group on the Internet.
And it was awesome.
Disneyland is something of a tradition for Mega64, especially with the team's leader Rocco Botte holding an annual pass and possibly splurging all of his disposable income on collectible "Vinylmation" figurines (which I'll get into a bit more later). And while the primary focus of Mega64's comedy is acting out video game scenarios to an unsuspecting public, they also shoot some hilarious skits at the theme park. After releasing one such skit in 2009 that poked fun at a particular annual group meeting at Disneyland, "GameDays" became the group's annual fan gathering, and it's been growing in numbers every year: we estimated 300 fans showed up to meet Mega64 at Disneyland this past Sunday.
And what amazed me was how easily the group managed to devote time toward interacting with all 300 of their fans. I met with every member of Mega64 for different periods of time; I had a brief chat on the Fantasyland docks with Derrick Accosta, and later had a conversation with Garrett Hunter and Shawn Chatfield before we took a massive group photo in front of Sleeping Beauty Castle. Later on, I had dinner with Shawn then rode all of the rides in Adventureland with Shawn and Rocco. We spent 15 hours total at Disneyland, and throughout the day all the guys from Mega64 were very energetic and friendly. I could tell Mega64 truly admires their fans, never appearing too exhausted from trying to meet with everybody.
Since GameDays as an event started three years ago, Mega64 has incorporated tons of traditions that, let's just say, enhance the Disneyland experience. On Sunday, for the first time, I took part in the GameDays staple, "No-Hands Autopia." Now I've been on plenty of those slow-moving gas-powered pedal car rides before, but I always carefully steered so my car didn't violently bump into the steel railing it runs along. But that's not how this GameDays tradition works. Rocco, playing the Tyler Durden to my Ed Norton, told me to ride Autopia without touching the steering wheel. In summary: I'm never riding Autopia the same way again.
Contrary to what I said in the video, Autopia was far from being our last GameDays activity. As I mentioned, Rocco is an avid figure collector and particularly enjoys posting videos to his personal channel in which he unboxes "Vinylmations," a line of blind bag figurines sold at Disney parks that is growing in popularity. I never got in on the fad… until I saw Rocco's videos from last GameDays. Then I knew I had to join him for Vinylmation unboxing later that night. Other fans apparently had the same idea as me. Rocco noted that past GameDays had very low-key Vinylmation unboxings later that night. This year, at least 40 people followed Rocco to a store in Tomorrowland, where the managers had to haul several palettes of Vinylmation boxes out from the back to satisfy the horde. Normally at this time of night at Disneyland, I'm watching the fireworks fly above Sleeping Beauty Castle from a Main Street sidewalk. On Sunday night, I could barely make out the booms of exploding fireworks over the energetic shouting of a group of Mega64 fans sharing a thrilling experience, opening their overpriced blind bag figurines, cheering whenever a rare figure was unboxed or booing when one of Rocco's least favorite figures showed itself in the crowd.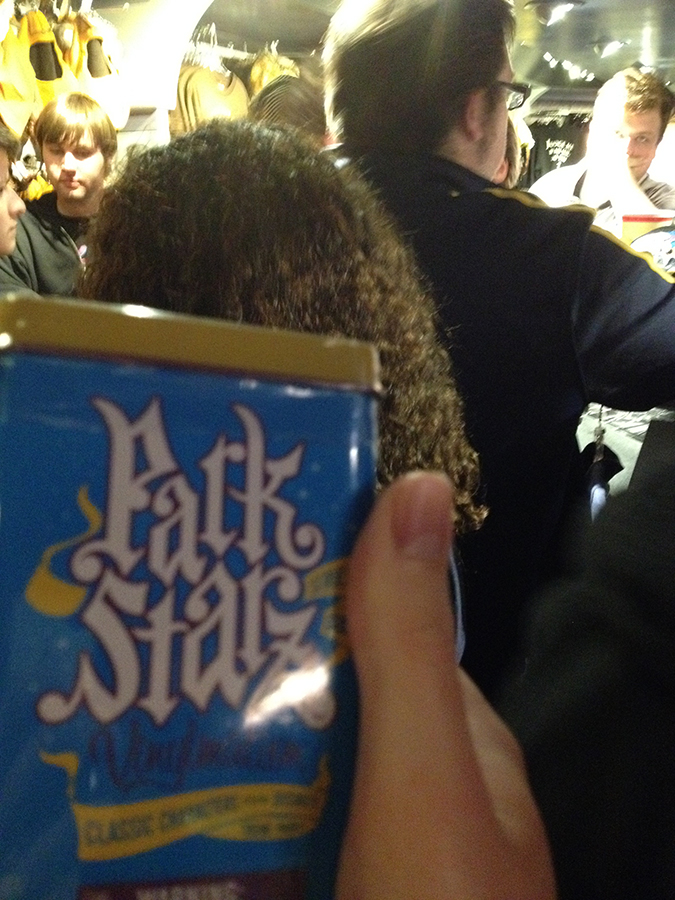 My last ride of the night was the Disneyland classic, the Jungle Cruise. Past rides on the Jungle Cruise found me forcing myself to laugh out of courtesy after every lame pun my skipper made. Riding with Rocco was a whole different ball game: the boat, full of Mega64 fans, laughed obnoxiously loud at each of our skipper's corny jokes. I'll never forget when the boat roared the loudest. We were all preparing to laugh hard at the infamous joke of the Jungle Cruise, when your boat travels behind a man-made waterfall and your skipper marvels at "The Eighth Wonder of the World… the backside of water!" We were pleasantly surprised when our skipper swapped the line, instead praising a rock formation on the other side of the boat instead of the waterfall. I like to think that we made that Jungle Cruise skipper's night by laughing so hard at his jokes. Toward the end of the cruise, it was clear he was getting a little more energetic about saying the same redundant lines for the umpteenth time.
I had an entirely different experience from what I am normally used to visiting Disneyland for GameDays. Hanging out with Mega64 and their fans felt more like an experience I get at any geek convention. We were a close-knit community of 300 people celebrating a fandom and making fun experiences that couldn't have been enjoyed in any other context. I talked to so many people whom I had never met prior (Mega64 themselves included), and because we all watched tons of Mega64 videos and podcasts, it was incredibly easy to socialize with one another thanks to that common bond. I don't know if or when I'll ever come back to Southern California, but if GameDays is happening next time I'm here you know I'm buying a ticket.
To the Mega64 gang and the masses of fans: thank you all for making GameDays 2013 one of my most memorable visits to the Happiest Place on Earth.
The Minus World is written by Steven Brasley. You can keep up with his thoughts on gaming via 
Twitter
.